Rocket Stove for wood burning, camping stove, prepping, survival
Why choose a Rocket stove?
These stoves have been specially designed with your convenience in mind!
They are durable and light weight which makes them easy to carry by hand or clip onto a backpack with ease.
There are a few things that are slightly different from other rocket stoves out there.
The inner chamber is heavier than standard tin can.
The stoves top moulds over the inner chamber creating a smoother transition.
Pieces are riveted and sealed with 2000 degree furnace cement for strength, then baked to 500 degrees in an oven to cure.
The stoves are:
Hand crafted.
Made from RECYCLED materials
Insulated, this keeps the heat focused inside the stoves allowing for a hotter, cleaner burn.
Painted with a high temperature resistant paint. It can withstand up to 1200 degrees! The paint also ensures longer life to the stove because it also provides rust resistance.
CAUTION: PLACE ROCKET STOVE ON A FLAT FIREPROOF SURFACE, THE STOVE BECOMES HOT! USE CARE HANDLING THE ROCKET STOVE AS SOME SURFACES / EDGES ARE SHARP! ONLY USE OUTDOORS IN A WELL VENTILATED AREA SAFE FROM COMBUSTIBLE MATERIALS.
DISCLAIMER: BY USING THE ROCKET STOVE, YOU AGREE TO HOLD THE MAKER AND SELLER BLAMELESS FOR ANY LOSS OR INJURY THAT MAY OCCURE DUE TO SUCH USE.
ABOUT THE ROCKET STOVE
Rocket Stove is an outdoor wood-burning cooking stove. These are low-mass stoves designed to burn small pieces of wood very efficiently. Cooking is done on top above the short insulated chimney. The slotted top of the outer can will help hold heat in, increasing the efficiency.
Use branches, twigs, small wood scraps, or just about any small combustible material. The pieces of wood or other material burn at their tips, increasing combustion efficiency, creating a very hot fire, and eliminating smoke. The low-mass stove body and insulated chimney ensure that the heat goes into the cooking pot, not into the stove.
The Rocket Stove operates approximately twice as efficiently, and substantially more cleanly, than the open fire cooking. The stove requires small diameter lengths of wood, which can usually be satisfied with small branches or splints of wood.
Because these qualities improve local air quality, and discourage deforestation, the rocket stove has attracted the attention of a number of Appropriate Technology concerns, which have deployed it in numerous third-world locales.
Why use a rocket stove over other types of outdoor cookware?
These little rocket stoves are very durable and last a very long time. They are able to boil water in less than 5 minutes! You are able to have an area of concentrated flame directly under your pots/pans just like a gas stove but use very little fuel! The Rock-it Stove produces maximum amounts of heat using minimal amounts of fuel. These efficiency Stoves are perfect for everything from camping to survival scenarios.
For fuel all you need is a few sticks, lighter/matches and a few pieces of tinder or paper. The tinder helps to start the fire. You then feed the sticks in through the side of the stove allowing you to control the burn of the fire. You can easily warm a pot of water using only a few 6-10 inch long sticks in just a few minutes.
Because the fire is inside the stove there is very little chance of any rainy or windy weather knocking out the flame, allowing you to cook your food regardless of the weather!
How to use a rocket stove…
Simply insert a few pieces of tinder or paper, some dry limbs, scrap wood, or sticks in the combustion chamber.
Light the tinder.
In a couple of minutes, you're ready to start cooking!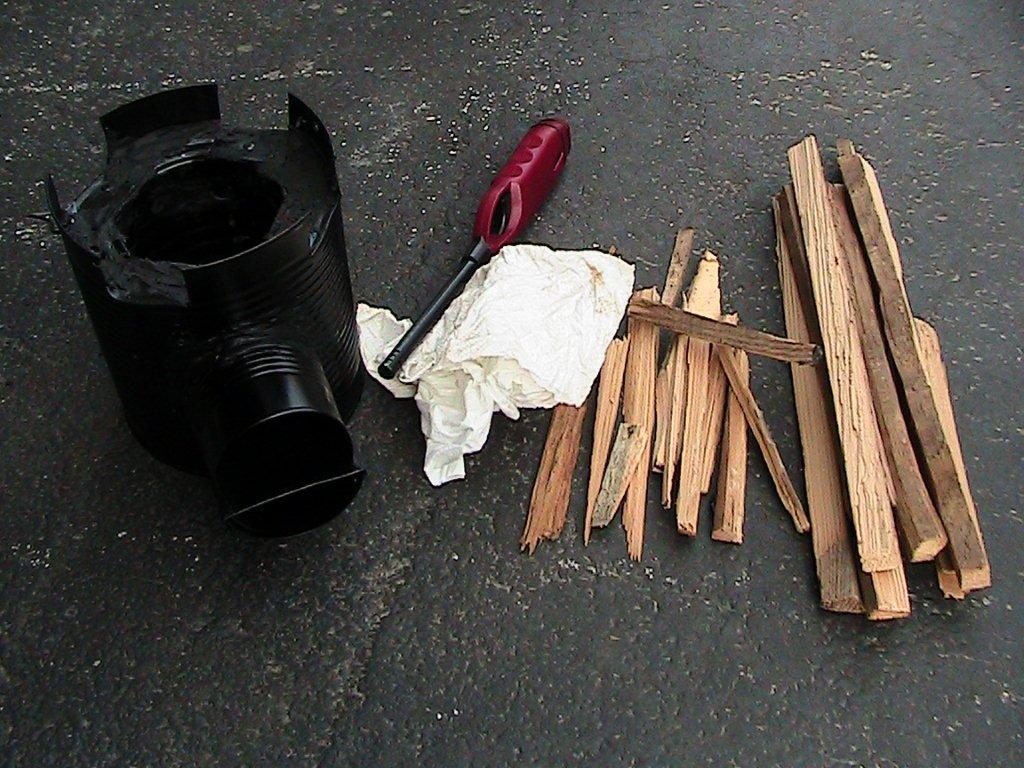 You need a bit of fuel, kindling and tinder. Also a way to ignite tinder.
WATCH OUR YOUNG FRIEND DEMONSTRATE!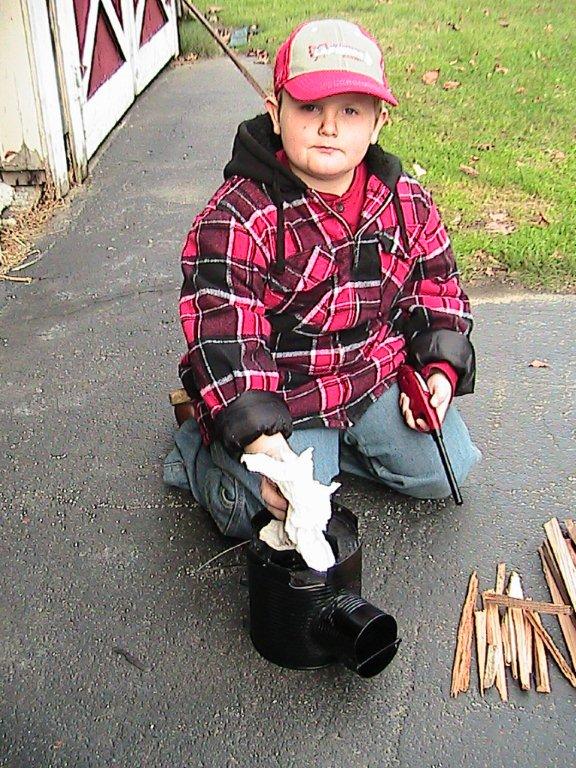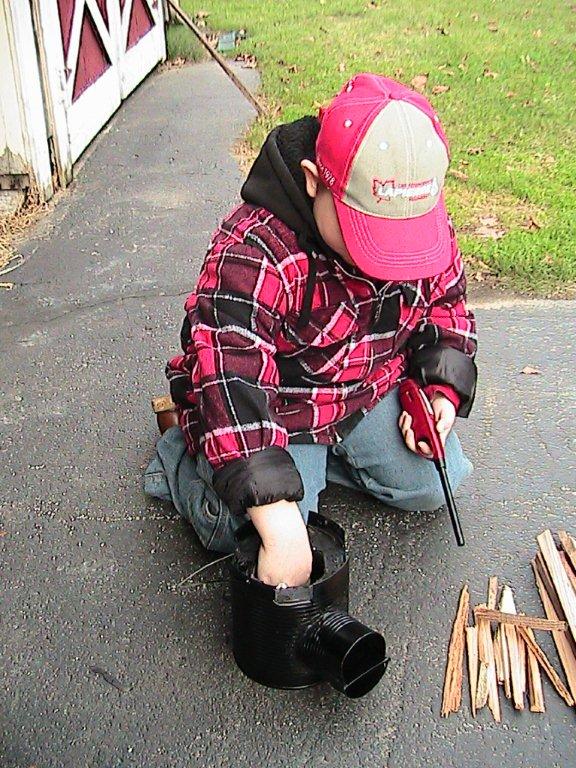 Put the tinder (paper or birch bark, etc.) into the bottom of the stove.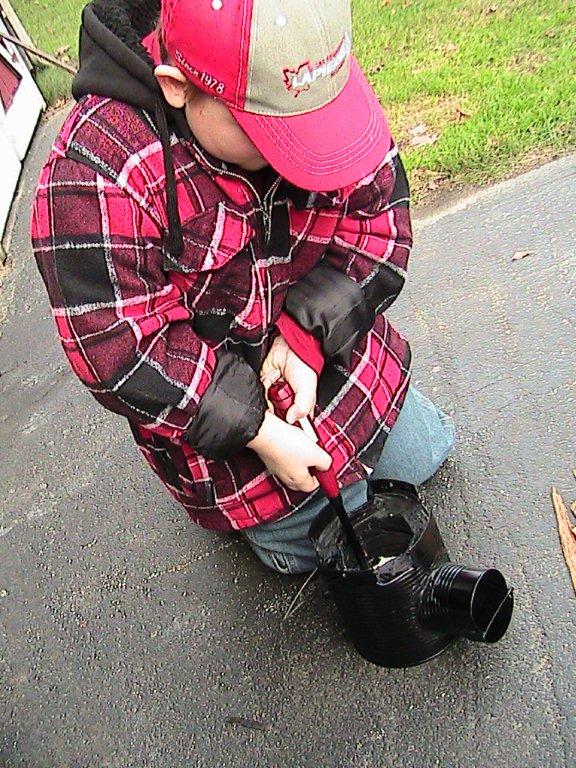 Light the tinder.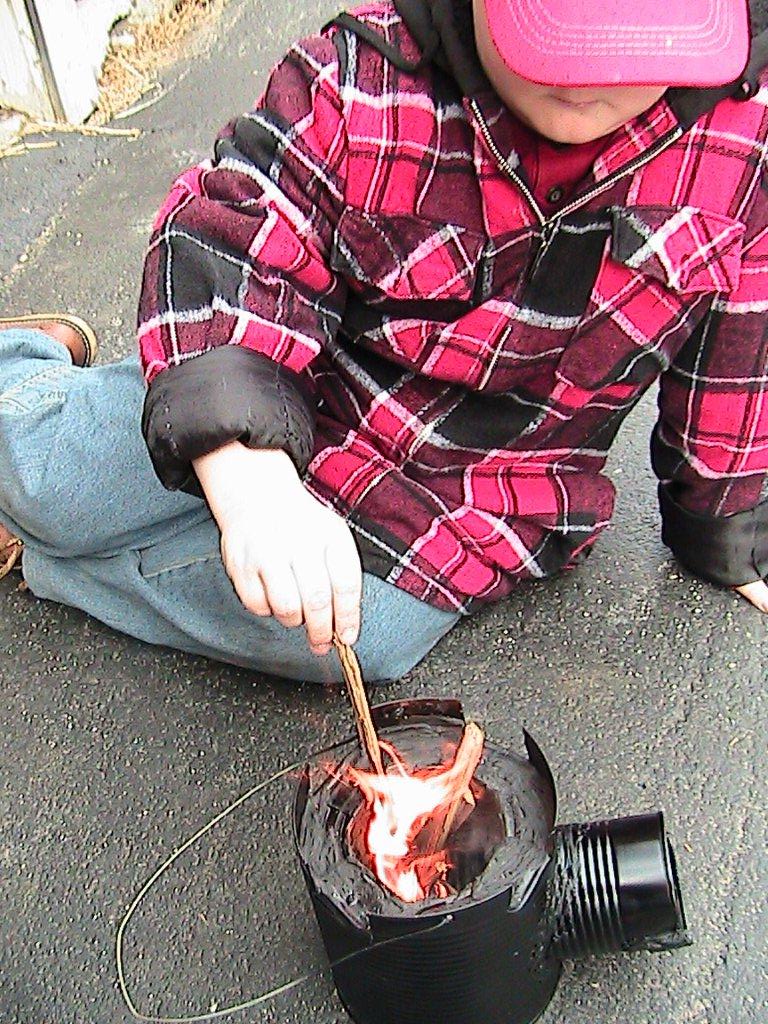 Add kindling to burning tinder to heat the chimney and prime the stove.

Feed fuel sticks into the stove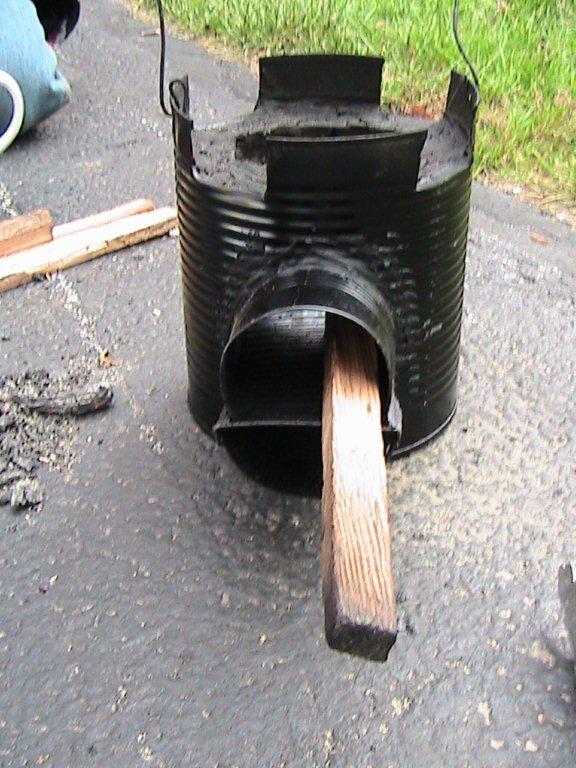 Fuel sticks go on top of feed shelf.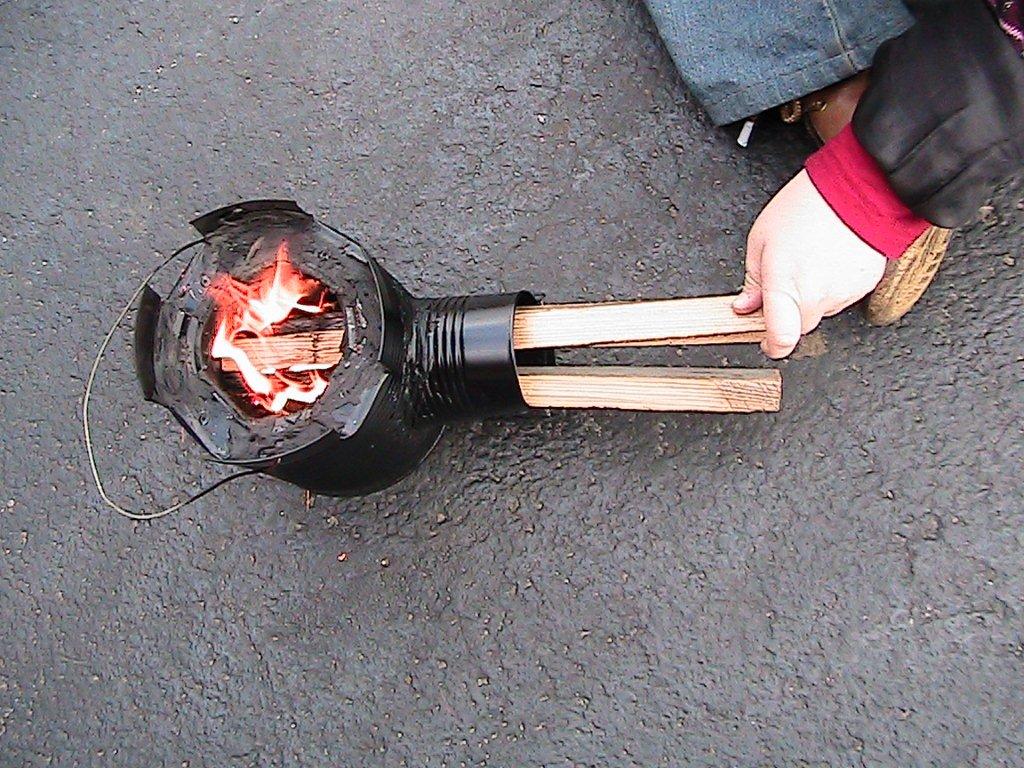 Add a few fuel sticks and push ends into combustion chamber.
Continue to feed fuel into combustion chamber as fuel burns.
Our young friend wants to boil some water.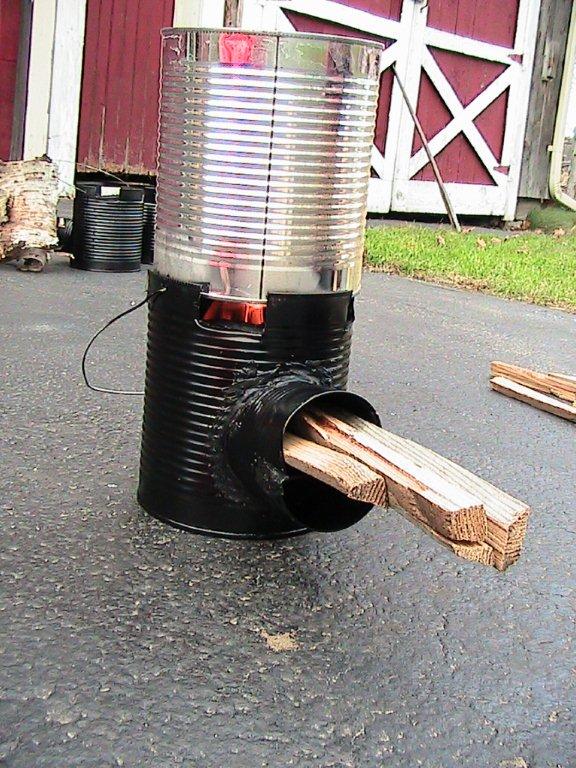 Water heating on Rocket Stove.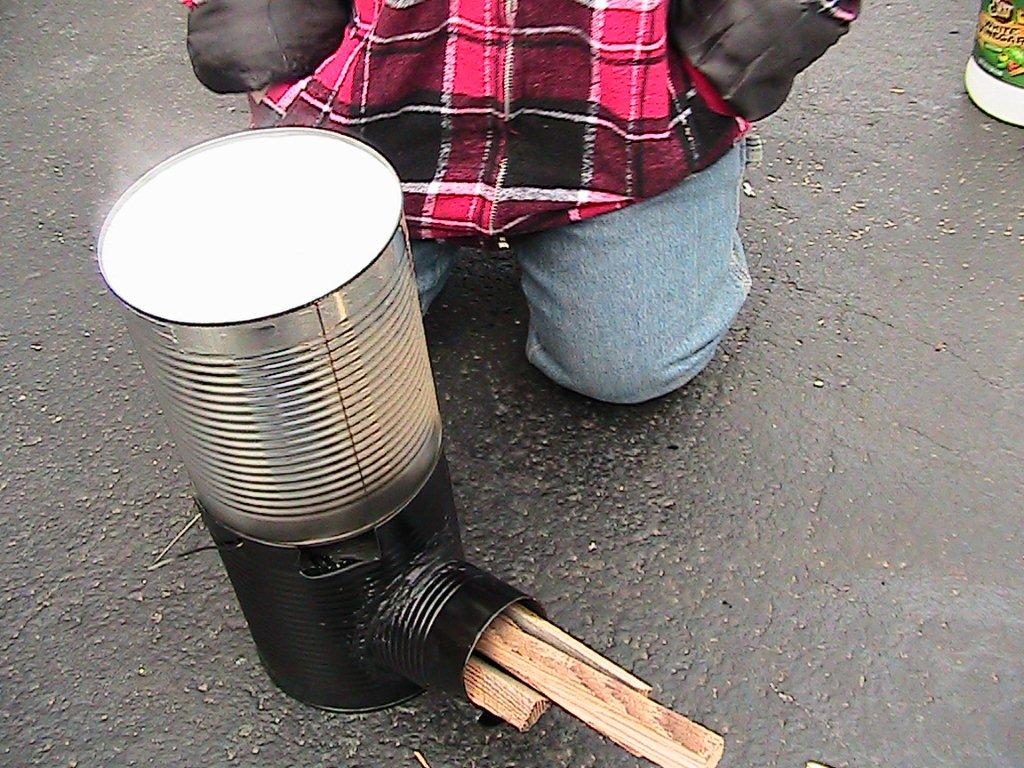 Water is hot in just a few minutes. Notice quantity of fuel consumed so far.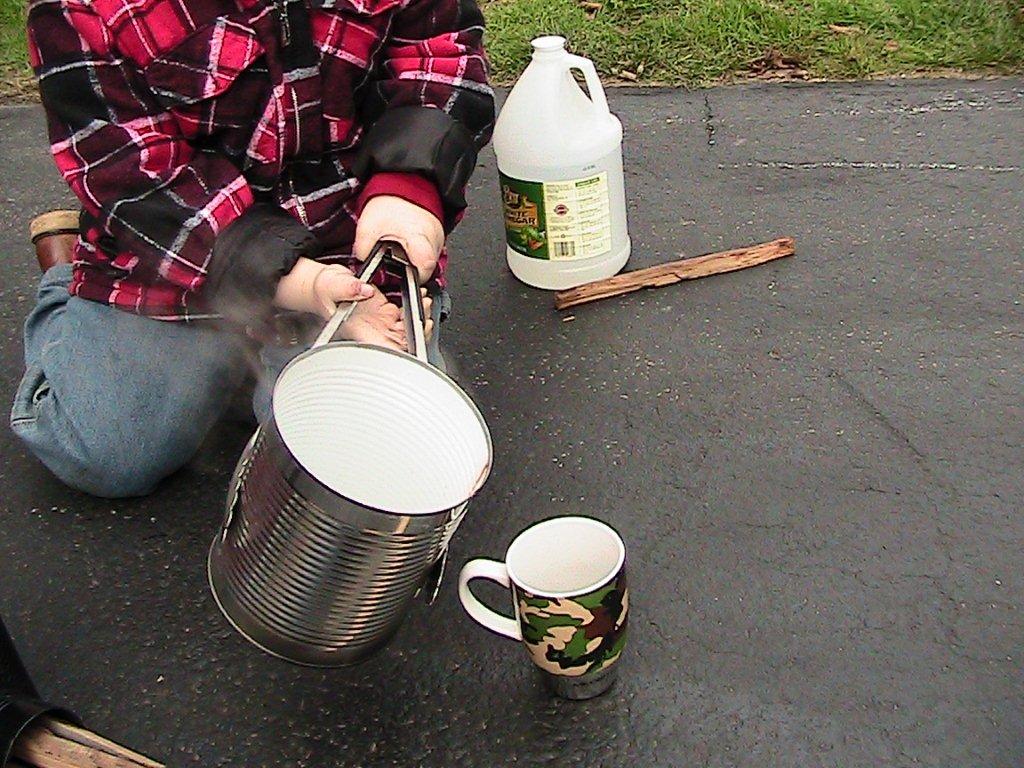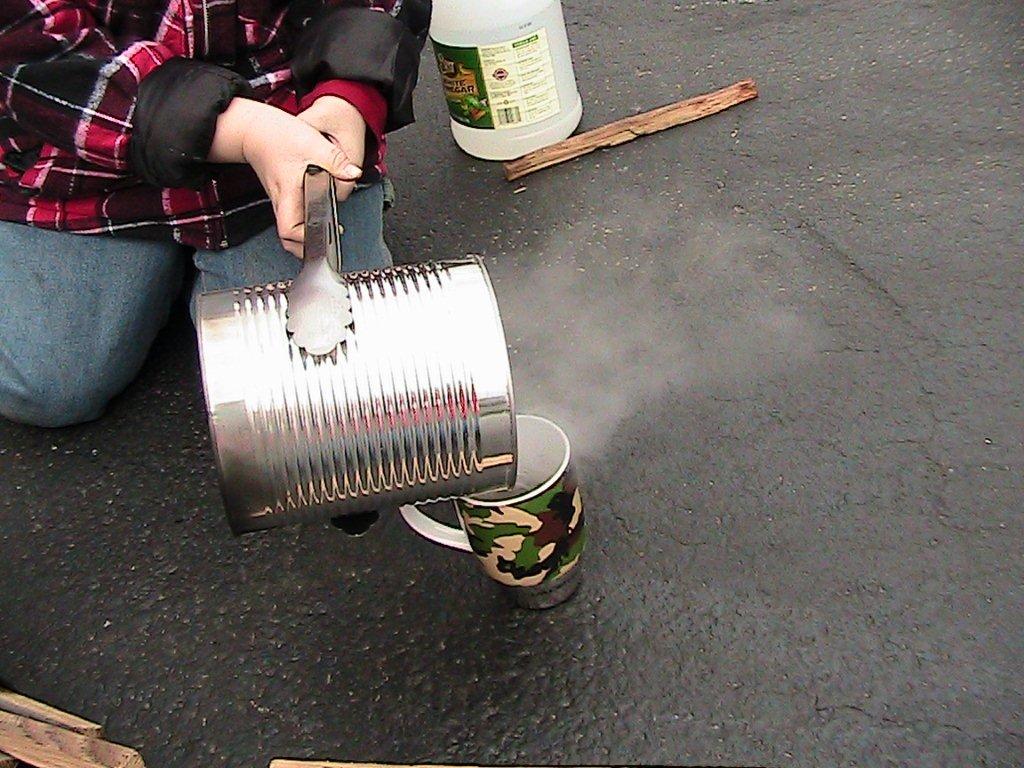 Easy does it.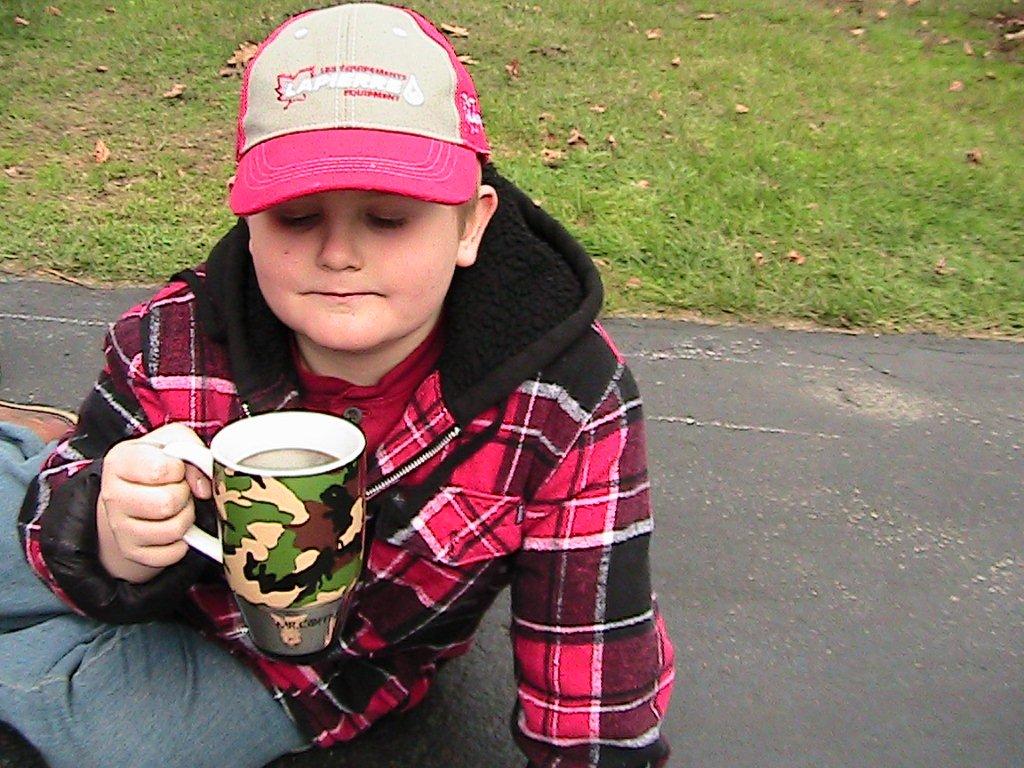 A hot drink in 5 minutes.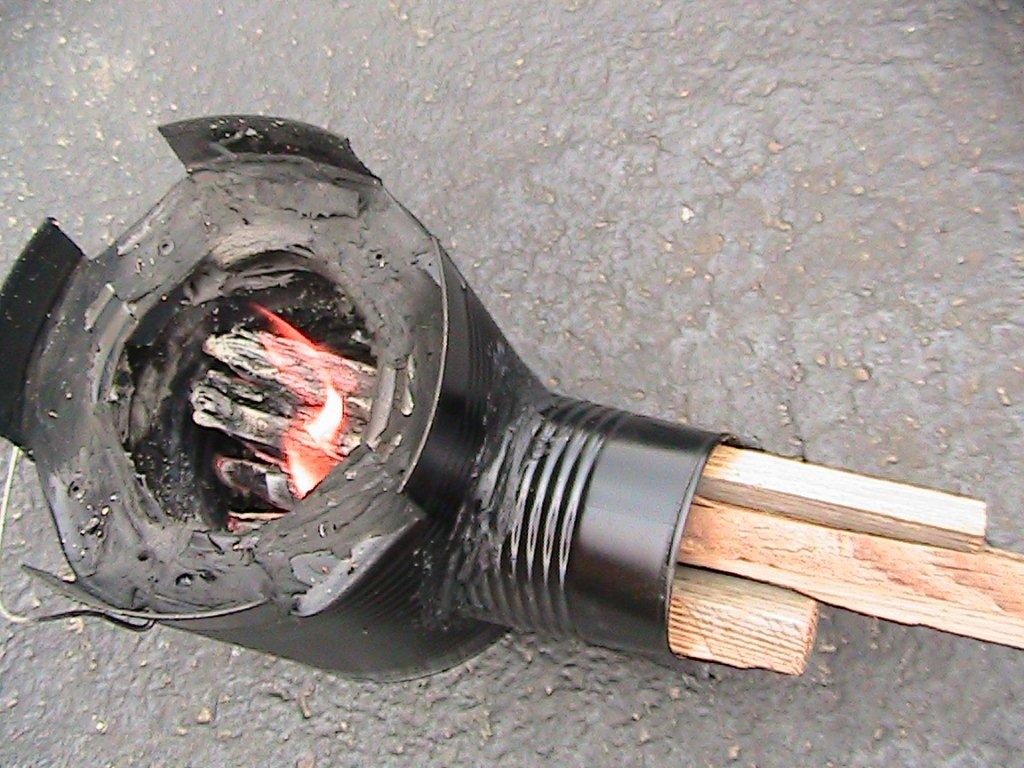 Notice how little fuel was consumed.
You can cook lunch next.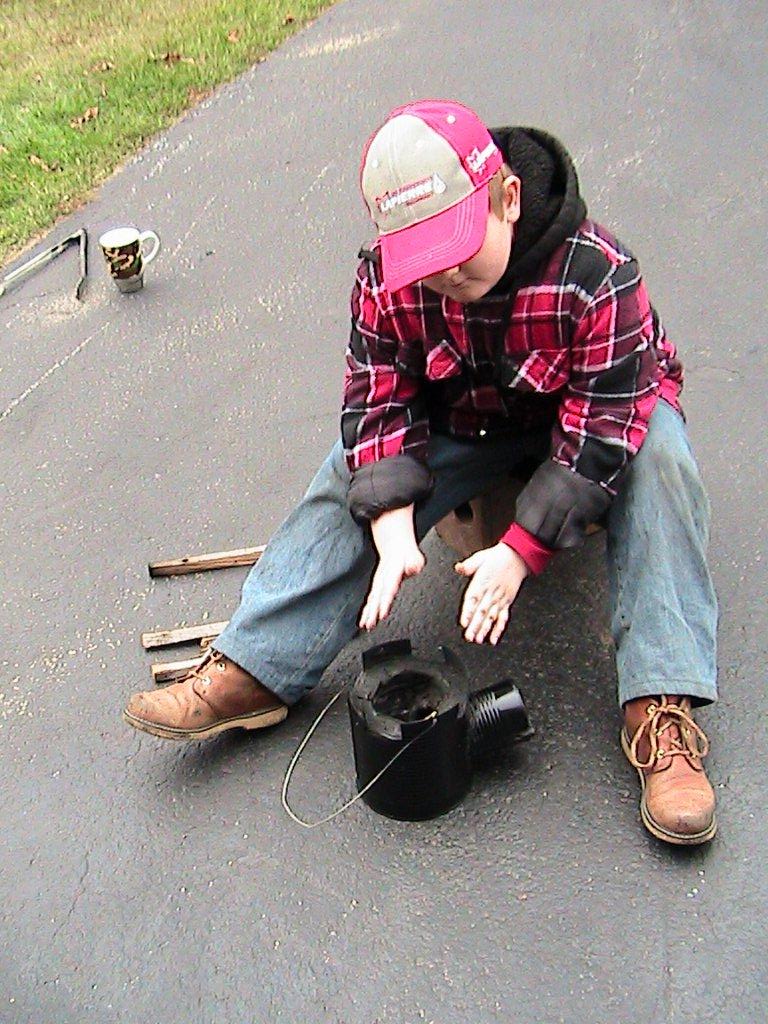 Use the Rocket Stove to warm up.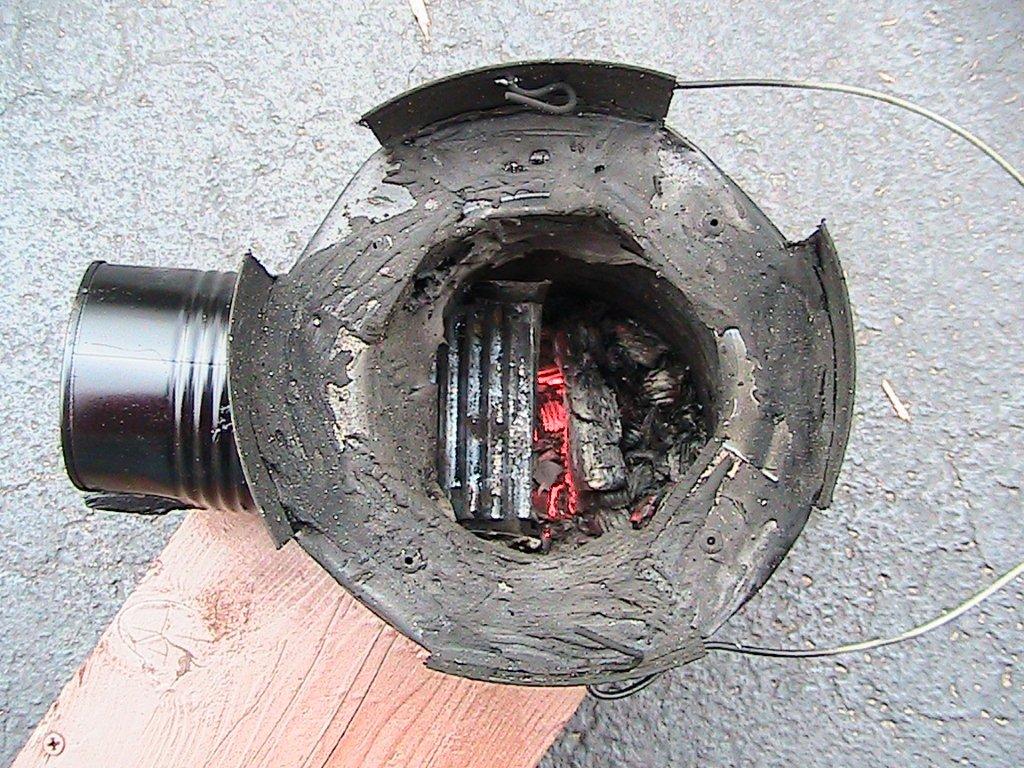 Rocket stove's complete combustion very efficiently consumes fuel leaving little to no wasted fuel.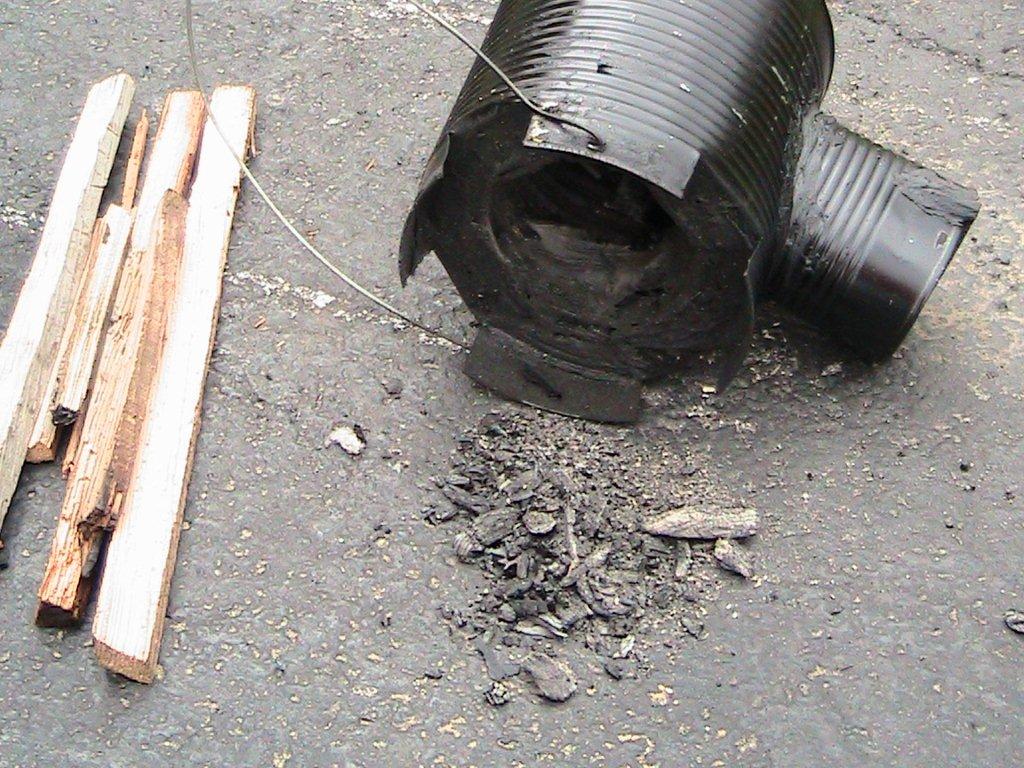 This is all the ash left after meal and warming from Rocket Stove.
Notice the unused fuel. Only five fuel sticks were used.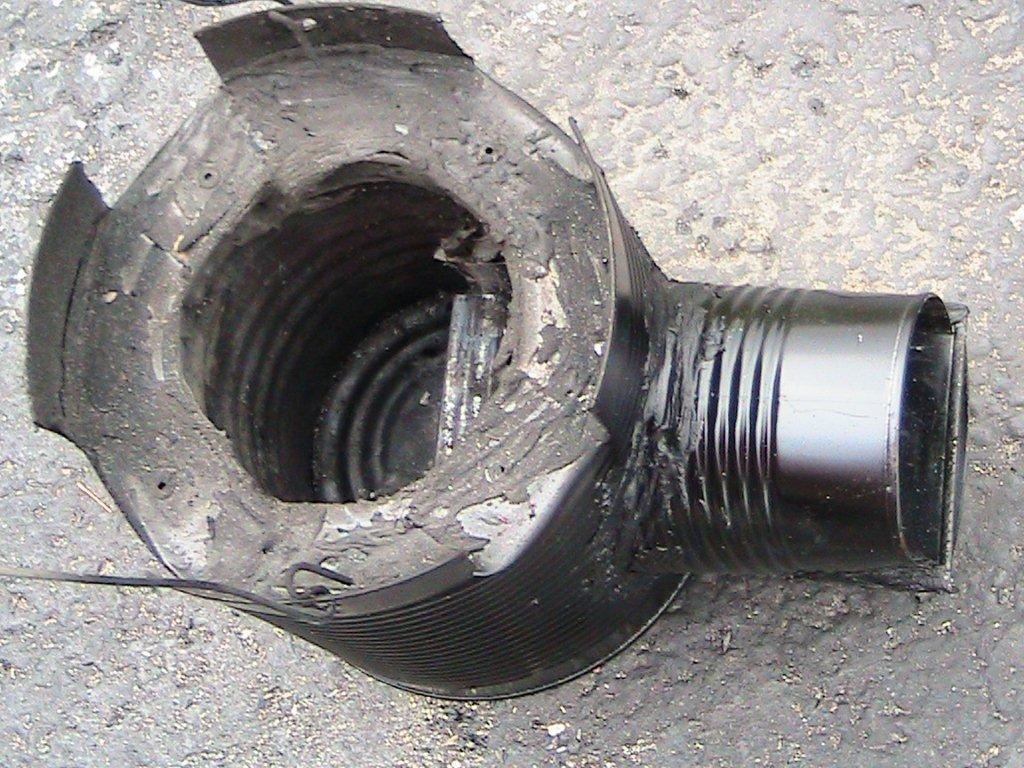 Empty Rocket Stove after use.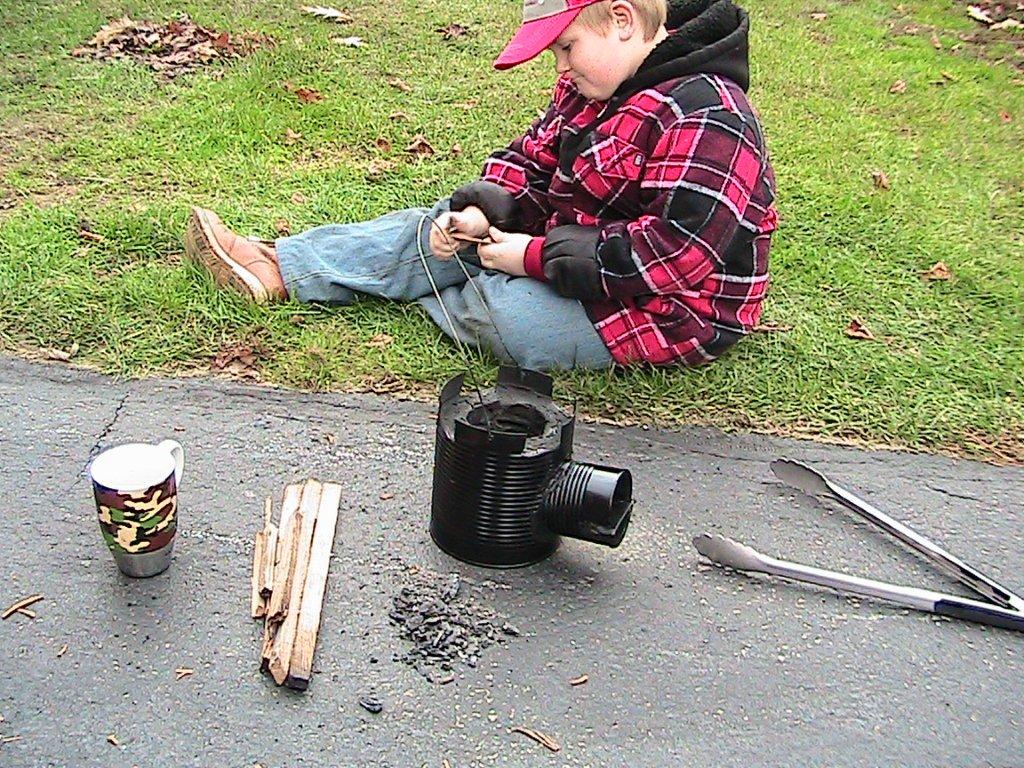 Get your Rocket Stove today.
For more information or to order your Rocket Stove, email us: Sales@3-bros-outdoors.com